Welcome!! Today, we're embarking on a new adventure. We're setting off on a year's project to grow as keepers of our homes.
Whether we're married or single, young or old, we all live somewhere. Perhaps, we are mistress of a large estate; perhaps, we have only one corner of a tiny room at our disposal. Whatever our circumstances, we can strive to make the space around us clean and enjoyable for ourselves and others. I think of Christ, who had no earthly home to call his own, but who loved and welcomed people wherever we went.
Not only do we live somewhere, we are family to someone. We might be daughter, wife, mother, sister, aunt, niece, cousin, caring neighbor or some combination thereof. (Likewise, though their role may differ from ours somewhat, the men in our lives also take the roles of son, brother, husband, father, etc. Mothers, we can help prepare our boys to do their part to make a happy home life.)
The true follower of our Lord is also part of God's family -- the greatest family of all. He is our Heavenly Father, and other Christians are our brothers and sisters. (Matthew 12:50) So, even if we have no physical family, we can still enjoy family life.
Not only are we part of a family and not only do we have a space to care for, we take part in the getting of meals, the selection and care of clothing, the care of our and our loved ones' health and appearance, and the management of money and time.
Consider how vital all of these things are. No matter what else we do in life, we will always be involved in creating and keeping a home. Even in our later years -- baring our total incapacitation -- we can still do something to love people and to brighten the physical space around us. My late mother had a widowed relative who lived into her nineties. Even after her health and memory were failing, she always kept her person neat, her attitude cheerful, and her interest in her family strong. Likewise, my widowed father lives in an assisted living center, where many of the residents have created charming rooms.
Keeping home is such an important part of our lives from our girlhood to our sunset days. Even so, many things can happen to attack our motivation. In order to overcome this, we must be convinced that how we live in our home is of great importance. It's fine to share our struggles with home keeping with those who can understand and advise. We all have weaknesses, and we all undergo trials, as well. Having people in our lives to help us through these times is invaluable.
However, I believe that it's also important to generally think, speak, and act with the conviction that to keep a home is a noble calling. This is true whether or not we also have another job outside of the home. This will not only add to our personal satisfaction, but it will influence others to think well of home and family.
Along those lines, here's a wonderful story to inspire you. (It's short. However, if you don't have time to read it now, skip to the end for some closing thoughts.)
(This was adapted from The King's Daughter and Other Stories for Girls by the Timeless Truths Online Library. This is an abridged version, and it conveys the meaning of the story. However, if you own the book or can find it in a library, it's worth reading the original.)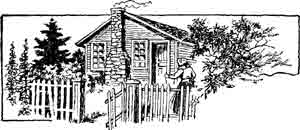 The Old Brown House
The old, weather-beaten house stood quite a ways from the road. You might have supposed it was deserted, except for the thin column of smoke winding about the roof. And inside sat an old woman by the fire, looking absently from the window.
It was Aunt Ruth Jones, as the neighbors called her. Little was known about her, except that she was a queer old woman—a sort of hermit, living all alone. Some said that she was proud, and others said that her life had been one of disappointment. But she wouldn't talk to any of them, and so the old brown house and its occupant were left to themselves.
The walls of the house were darkened with smoke, the windows dingy, and the floor sunken in. There was nothing cheery in the ill-kept room, or in the face of Aunt Ruth. She had become shriveled inside and shut off from everyone, with no one to share her joys or grief, or to care if she had any.
The days came and went. She did her little round of chores, a bit of patchwork, and occasionally walked to the village store. As she saw the glimpses of happy homes and heard the noisy stir of life, she felt the striking contrast to her own lonely lot. Gladly would she hasten back to her own silent fireside, where the cats, at least, were glad of her presence.
Though none shared her heart or home, yet there was sometimes one bright presence within those dim walls. A childish, questioning voice, and sweet laughter could be heard. It was Bessie Lane.
One June day, on her way to school, a sudden dash of rain had driven Bessie there for shelter. And ever since, the happy little girl, would go to the forsaken old house to chat with Aunt Ruth. As the springing step was heard, there would come a gleam of brightness to the faded eyes, and a smile to the thin mouth. And so Bessie was welcomed by the lonely heart.
"What in the world makes you visit that old hermit?" said Eliza Ray, her schoolmate, one morning. "Bridget, our hired girl, says she is an old hag."
"Oh, but I like her," said Bessie Lane, with a toss of her hat.
So Bessie kept up her visits, and the two would sit and talk together by the hour. Aunt Ruth would show her long-treasured trinkets, and detail their history, till Bessie's eyes would widen in wonder.
On this wintry morning, as Aunt Ruth sat by the dull fire, Bessie had been away longer than usual. The sky was leaden, and the wind whistled down the chimney and shook the windows. Suddenly Aunt Ruth started up and peered through the window. There was the bright little hood and blue cloak approaching at last!
"Good morning, Aunt Ruth. It has been so long since I have been here, hasn't it?"
"Yes, a long time for a lonesome old body like me; but this is no place for the young and happy, I know."
"Oh, yes it is, dear Aunt Ruthie. I like to come real well. But Uncle Jake has been so sick. He sent for pa and ma, and I went with them. It is such a long way off, I thought we never would get there. And, oh, Aunt Ruth, I have not told you yet—" and the chubby face sobered.
"What is it, child?" Aunt Ruth asked, picking up the litter from off the floor. Somehow she always did try to clean up when Bessie was around. The room was good enough for her, but for the child it seemed dismal.
"Well, I will tell you: we are going to move away, Aunt Ruth. And I don't want to go one bit," said Bessie, tears rolling down her face.
"Going away? My little girl going off?" asked Aunt Ruth.
"Yes, and Mama said it would be too much bother to take Chip, so I have given poor birdie away to Eliza Ray," said Bessie sadly. "I let Amy Wells have my kitten, but I haven't found a place for my poor little rose." She took a little pot from under her cape and held it up. "See, isn't it a beauty? You will keep it to remember me by, and take care of it always, won't you, Aunt Ruth?"
The little blossoms were out in full, and seemed to smile upon the old woman. "Yes, yes, child, I will keep your rose. No harm shall come to it." Aunt Ruth looked at the rose thoughtfully. "So you are going away; and you'll forget all about poor Aunt Ruth with so many new friends."
"No, no, indeed I shall not," said Bessie, giving her a hearty hug. "And sometime I will come to see you." They talked a long time, but at last, with a good-by kiss to Aunt Ruth, and to the pet rose, she was gone like a flitting sunbeam.
The shadows seemed to come back to the old house, but as her glance fell upon the little flower, Aunt Ruth began clearing a place for it. "I used to carry just such roses to the old stone church in Amsden when I was no bigger than Bessie," she said to herself. "It seems like yesterday, but, ah! it has been a long time. Maybe if I could do like that again, life would not be so dark and lonesome."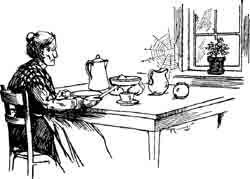 She put the rose by the south window, so it could be seen from the gate. "Bless me!" Aunt Ruth said, looking at the window. "It never looked quite so dirty before." With new energy, she cleansed, rinsed, and polished the glass. But when this was done, the old muslin curtain seemed dingier than usual. So it was taken down, and another finer one was unpacked from a drawer and put in its place.
The next morning, as Aunt Ruth ate her lonely breakfast, she placed her chair to face the window and the rose. The sun was shining, and as the rays streamed across the room to the opposite wall, she noticed the cobwebs. That day the cobwebs were swept down, the other window washed, and the floor cleaned. The old house had not been so neat and cheery for many years.
Near the close of the week she went to the village, this time putting on a dark delaine, instead of the old calico. Somehow the gay dresses and curious glances did not disturb her as much as usual. She spoke pleasantly with a neighbor whom she had not talked with for a year.
A strange feeling had come over her—a feeling that she was one of the great human family after all, and her coldness began to thaw a little. On her way home she chose to take another road, past a church. It was lighted, and a few real worshipers had met to pray before the regular Service. They were singing now, and Aunt Ruth paused to listen. As she slowly walked on, she said to herself—
"O Ruth Jones, where are you? I used to sing, too, in the same old church where I carried the roses. I used to pray, too. I wonder if God would hear me now."
That night, and many nights after, she could not sleep. The words of the song kept ringing in her ears, bringing up the old scenes to her mind. Her soul was troubled, and she began searching for the truth she had once forsaken. The Spirit of God was all the time leading her back to the light.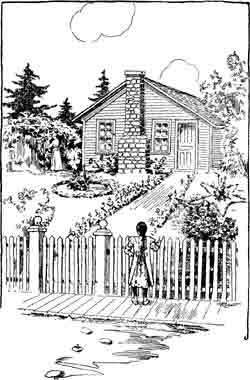 Then the dawn came, and the Sun of peace shone upon her soul. She went to the church, where the song that night had stopped her, and listened to the words of life. Her life became a blessing, for God was working in her. The sick and needy learned to be glad at her coming, and little children ran to meet her.
And did Bessie Lane ever come again?
Yes, when June smiled upon the earth, the childish figure once more paused at the gate. "This isn't the place. Aunt Ruth must have moved away," said Bessie in bewilderment. The house was neatly painted, the yard fence repaired, and up and down the path all sorts of flowers were blooming.
Then Bessie spied a neatly dressed old lady tying up some vines. "Can you tell me where Aunt Ruth has gone—?" Bessie stopped, and ran into the woman's arms, for it was Aunt Ruth herself.
"It is so beautiful here! How did it all happen?" cried the delighted child. Aunt Ruth smiled brightly, and took Bessie into her neat and cheerful room. By the south window stood the carefully tended rose. Bessie fairly danced with delight. Then, sitting by Aunt Ruth's side, she heard the story of how peace had come to the weary heart and light into her dismal life.
I suggest that we all keep two notebooks as we "study". These can be as simple or as decorative as you want them to be.
1) Label the first: Home Economics Project. This is where we'll write down our thoughts about the exercises, jot down information we want to remember, and journal the ups and the downs of our home keeping if we like.
2) Label the second: My Book of Days. In this one, record happy memories that you are building as a keeper of your home. Also record encouraging quotations, poems, or scriptures. We are keeping this book 1) to train our minds to see and remember the wonderful blessings we have 2) to encourage gratitude in our hearts 3) to record memories for the future and 4) to encourage us when we find our motivation is lagging. If you want to be creative with one of the notebooks, I suggest that it be this one. If you have children in the home, you might want to help each child keep his or her "Book of Happy Moments" or keep one as a family.
Remember, you can make of this one-year course what you want it to be. Do as many of the suggested exercises as you like or simply read along. I will include some basic exercises for beginners and some more advanced projects for experienced keepers at home. I'm just a fellow studen along with you, so feel free to add your comments to any post. Also, you might want to blog about a week's subject on your own blog and post the link in the comments section. That way, we can all benefit from each other's experience.
Exercise A -- In your home economics book, answer the following questions (or just think about them as you go about your day).
1) Describe a home -- other than your own -- in which you feel (felt) welcomed and comfortable. What makes(made) it feel so warm and beckoning? Is or was there a woman in your life who loved her family and kept her home in a way that inspired you? If so, what qualities do you see in her that made her a wonderful homekeeper?
2) Do you believe that you are doing something worthy by how you live in your home and by how you love your family? Would others say that you are basically happy to love your family and tend to your home, even if you do have trials and struggles along the way? If you lack confidence in this area, what do you think the root might be?
3) Some people have a natural love for domestic things and take to them easily. Others have other gifts in life, but struggle when it comes to home keeping. Where do you see yourself in this regard? If you are a happy home keeper by nature, that's wonderful. If you know you weren't born to be Martha Stewart, that's ok. You can still learn how to manage your home adequately. A key to satisfaction in the home is to start where you are and do the best you can.
4) If you are a daughter at home, do you cheerfully do your part to love your family and to keep your personal space neat? Are you learning any domestic skills that will help you when you become an adult?
B. Exercise B: For your Book of Days, describe your favorite place in your current living area. Also, you might want to illustrate your first page with a pretty picture or a meaningful photograph.
Enjoy!
Elizabeth